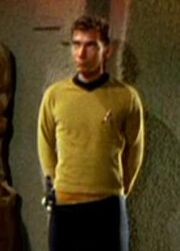 According to someone who claims to be a step-child, actor Bruce Watson died on July
11th, 2009 following a long illness. Watson appeared on such TV shows as "Star Trek," "Gunsmoke," "Bonanza," "Mission: Impossible," and "Charlie's Angels." He also starred in the 1975 film"The Swinging Barmaids" and made appearances in films like "This Property Is Condemned" (1966) and "Johnny Got His Gun" (1971).
WATSON, Bruce
Born: 7/20/1940
Died: 6/11/2009, New Mexico, U.S.A.
Bruce Watson's westerns – actor:
Pistol 'n' Petticoats (TV) – 1966 (Billy Blanton)
Gunsmoke (TV) – 1968 (Howard Miller)
Johnny Got His Gun – 1971 (technician)
Bonanza (TV) – 1969 (Clay)