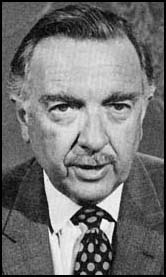 Legendary Newsman Walter Cronkite dies at 92
Jul 17, 2009, 08:33 PM | by Entertainment Weekly
CBS newsman Walter Cronkite, legendarily known as "The Most Trusted Man in America," passed away today at the age of 92.
With the face of a small-town druggist, an easily-parodied delivery that was both herky-jerky and orotund ("As-tronaut Juhn Glenn..."), and a mien of utter seriousness, Walter Cronkite was the acknowledged king of the golden era of network news. Serving as the managing editor of the CBS Evening News between 1962 and 1981, Cronkite projected a professional authority and personal integrity that invested him with a credibility no contemporary journalist, operating in a more skeptical era, possesses. When Cronkite ended a broadcast with his signature "And that's the way it is," neither he nor his audience doubted that it was true.
Born in 1916 in St. Joseph, Missouri, Cronkite entered journalism as an undergraduate. But it was during World War II, as a reporter for UPI, that Cronkite first distinguished himself. He sent classic dispatches from battlefields in North Africa, Normandy, and from the belly of a B-17 bomber over Germany, and parachuted with airborne troops into Holland. He joined CBS News in 1950 and soon distinguished himself with his coverage of the Korean War. "He had that special quality that television demands," David Halberstam wrote in The Powers That Be, "that audiences sense, and that is somehow intangible -- he had weight, he projected a kind of authority."
Continued after the jump
Elevated to evening news anchor in 1962, Cronkite arrived as the tumultuous decade was getting in gear. Through space shots and conventions, riots and assassinations, Cronkite was a sturdy presence, logging so much time at the desk that colleagues nicknamed him "Old Ironpants." One of Cronkite's great personal passions was sailing, and he steered the broadcasts through the turbulence with the professional steadiness of a captain piloting his ship through heavy weather. Ironically, the occasions when he stepped out of that character became his signature moments. He was unabashedly enthusiastic about America's space program (As Apollo 11 blasted off for the movie, Cronkite cried "Go, baby, go!"). Seeing him struggle to control his own emotions while relaying the official report of President Kennedy's death became one of the indelible images of the event (Cronkite, however, didn't completely repress his feelings that day. After holding down the desk for four and a half wrenching hours, Cronkite took a break to call his wife; he answered a ringing telephone, only to hear a viewer saying "You people at CBS should do something about Walter Cronkite. It's a disgrace that a man who has been trying to get John Kennedy out of office should be on the air at a time like this." He replied, "Madam, this is Walter Cronkite, and you are a goddammed idiot!")
More significant than these events was Cronkite's decision to report early in 1968 that the Vietnam war was going poorly and that American troops should withdraw. "If I've lost Walter Cronkite, I've lost the country," President Johnson is said to have concluded, and not long after announced that he would not seek re-election.
Cronkite's retirement in 1981 marked the end of the pioneering days of network news. In the new era, television news enjoyed unprecedented influence and glamor, but suffered as journalistic imperatives wrestled with corporate demands and show biz values. Cronkite wasn't happy. "A career can be called a success if one can look back and say 'I made a difference,'" he wrote in his 1996 memoir A Reporter's Life. "I don't feel I can do that. All of us in those early days of television felt, I'm sure, that we were establishing a set of standards that would be observed, or at least have influence on, generations of news professionals to come. How easily these were dismissed." —Jamie Malanowski
CRONKITE, Jr., Walter Leland
Born: 11/14/1916, St. Joseph, Missouri, U.S.A.
Died: 7/17/2009, New York City, New York, U.S.A.
Walter Cronkite's westerns – actor:
You Are There: The Defense of the Alamo – 1953
You Are There: The Burning of the Alamo - 1953
You Are There: Sutter Discovers Gold - 1954
You Are There: The Trial of Belle Starr - 1954
You Are There: The Gunfight at the O.K. Corral - 1955
You Are There: The End of the Dalton Gang - 1957