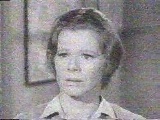 Collin Wilcox, 'To Kill a Mockingbird' Accuser, Dies of Cancer
Posted Thursday 22 October 09:05 AM By: PopEater Staff
Collin Wilcox, who portrayed a young white woman who falsely accuses a black man of rape in 'To Kill a Mockingbird' and went on to appear in numerous TV shows and films like 'Jaws 2,' died at her home in North Carolina last week. She was 74. Her husband, Scott Paxton, said the actress died on Oct. 14 of brain cancer, the New York Times reports.
As the character Mayella Violet Ewell, who accused Brock Peters' character of rape, she delivers a court speech that stands out as one of the most memorable scenes in 'Mockingbird.' While being cross-examined by Gregory Peck's Atticus Finch, she tearfully responds:
"I got something to say, and then I ain't gonna say no more. He took advantage of me! And if you fine, fancy, damn ... ain't gonna do nothin' about it, then you're just a bunch a' lousy yella stinkin' cowards ... the ... the whole bunch of ya. And your fancy airs don't come to nothin'. Your manners and your "Miss Mayella," it don't come to nothin' Mr. Finch!"
'Mockingbird' was her major-film debut and she later appeared on TV show such as 'The Twilight Zone,' 'The Untouchables' and 'Gunsmoke.'
She appeared in several more films, including 'Catch-22' and the 'Jaws' sequel, before moving back to her native North Carolina where she and her husband founded a children's arts center.
In addition to her husband, Paxton is survived by her children, Kimberley and Michael.
WILCOX, Collin
Born: 2/14/1935, Highlands, North Carolina, U.S.A.
Died: 10/14/2009, Highlands, North Carolina, U.S.A.
Collin Wilcox's westerns - actress:
Temple Houston (TV) - 1963 (Doris Chevenix)
The Travels of Jaimie McPheeters (TV) - 1963 (Emmy)
The Road West (TV) - 1967 (Frances)
The Virginian (TV) - 1967 (Sarah Keough)
Death Valley Days (TV) - 1968 (Sage Madison)
Gunsmoke (TV) - 1972 (Bess Frye)
Little House on the Prairie (TV) - 1977 (Beth Novak)