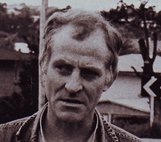 Actor, director, writer and poet Martyn Sanderson, one of the founding fathers of modern New Zealand theatre, has died aged 71.
He was involved with a new production, the African play Muntu, right up to his death.
Born in Westport, Mr Sanderson was educated at Christ's College and Canterbury University. In 1956, he took up a scholarship at Britain's Oxford University, where he was taught Middle English by J R R Tolkein.
In 1964 he set up New Zealand's first full-time professional theatre, Downstage Theatre in Wellington, with Tim Elliot, Peter Bland and Harry Seresin.
Sunny Amey, herself a former artistic director of Downstage, says he was like the "father of modern theatre in New Zealand" to her, and current Downstage artistic director Hilary Beaton calls him the "grand old man" of New Zealand theatre.
Over the years Mr Sanderson has appeared in many plays, TV dramas and films: he played a policeman chasing Mick Jagger in the film Ned Kelly and Arthur Allan Thomas's father-in-law in the film of the Crewe murders case, Beyond Reasonable Doubt.
He joined Bruno Lawrence and others in touring the country with the Blerta troupe during the 1970s.
In 1989, he was named best supporting actor in the New Zealand Film Awards for his portrayal of Frank Sargeson in An Angel At My Table.
In later years he published poetry and was active in the Africa Connection Aotearoa Trust with his Kenyan-born wife Wanjiku Kiarie.
Performances of Muntu, produced by the trust, will go ahead as planned in Otaki, Lower Hutt and Wellington this weekend.
Mr Sanderson, who died of emphysema, was a member of the New Zealand Order of Merit for his services to literature and theatre.
SANDERSON, Martyn
Born: 2/24/1938, Hokitika, Westmoreland, New Zealand
Died: 10/14/2009 Otaki, New Zealand
Martyn Sanderson's western - actor:
Ned Kelly - 1969 (Fitzpatrick)