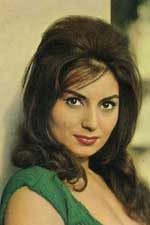 Actress Rosanna Schiaffino, one of the most beautiful faces of Italian cinema of the sixties, and who appeared in director Vincent Minnelli's "Two Weeks in Another Town" (1962), and Roberto Rossellini's "Ro.Go.Pa.G" (1962), died today at the 69 years in Milan. She had battled breast cancer for 15 years according to a media release.
Schiaffino was born Rosa Anna Schiaffino in Genoa on November 25, 1939 and died in Milan today Ocotber 17th. She will be buried in the Ligurian town of Portofino next to her mother, said her son Guy, who was her son from her second marriage to industrialist Giorgio Flack. Rosanna also has a daughter Annabella (39) from her first marriage to producer Alfredo Bini whom she married in 1963.
Schiaffino began her modeling career, but soon opted for an acting career and her first film, in which he appeared alongside one of the legends of Italian cinema, the Neapolitan poet and actor Antonio De Curtis, known as Toto (1898-1967) . This film was "Toto lascia or radoppia" (1956) by Camillo Mastrocinque. She would later appear in "La sfida" (1958), Francesco Rossi, with whom he became one of the most promising Italian actresses of the time .
It was in the early sixties when his name achieved a higher profile, when placed under the orders of directors as Minnelli and Rossellini.
She repeatedly visited Spain, where he recorded such films as "El Greco", with Mel Ferrer and Italian-Spanish co-production "Crossroads for a Nun" (1967).
During the second half of the '60s her career begans to stagger and she left the business.
SCHIAFFINO, Rosanna
Born: 11/25/1939, Genoa, Liguria, Italy
Died: 10/17/2009, Milan, Lombardy, Italy
Rosanna, Schiaffino's western - actress:
A Man Called Noon - 1973 (Fay Davidge)