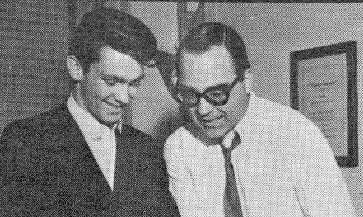 [Gene Piney & Aaron Schroeder]
ENGLEWOOD, N.J. (AP) — The songwriter behind the Elvis Presley hit "It's Now or Never" has died.
A publicist for Aaron Schroeder says the 84-year-old died Tuesday. Dale Olson said Schroeder had been suffering from a form of Alzheimer's disease.
Olson says Schroeder was credited with writing 2,000 songs and wrote several hits for Presley, including "Stuck on You" and "A Big Hunk O' Love." But the biggest song was "It's Now or Never."
Schroeder was more than just Presley's songwriter. He was also a producer, he was credited with helping the young careers of acts like Jimi Hendrix and Barry White, and he wrote the theme song for "Scooby-Doo, Where Are You!"
Survivors include his wife, Abby, and daughter Rachel.
SCHROEDER, Aaron (aka Aaron Schroder) (Aaron Harold Schröder)
Born: 9/7/1926, Brooklyn, New York, U.S.A.
Died: 12/1/2009, Englewood, New Jersey, U.S.A.
Aaron Schroeder's westerns - composer:
Lucky Luke (TV) – 1990-1991
Lucky Luke – 1991