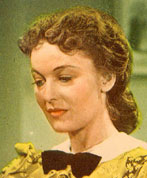 Beatrice Gray was born Bertice Kimbrough on March 3, 1911, on a farm six miles from Carthage, Illinois. She got her start as a showgirl in nightclubs and on Broadway. Her first acting job was "New Faces of 1935". She came to California in 1937 and appeared in RKO's "New Faces of 1937". She worked as a dancer with Busby Berkeley and others.
Most of her westerns were done at Monogram. She appeared in three Bob Steele/Hoot Gibson co-starring films "Utah Kid", "Marked Trails" and "Trigger Law". Many of a Grays' other acting credits were at Universal where she filmed "Wild Heritage" ('58).
Beatrice Gray is the mother of Billy Gray who became Bud Anderson on the 1950's TV series "Father Knows Best".
Beatrice Gray passed away of natural causes at the age of 98 on November 25, 2009.
GRAY, Beatrice (Bertrice Kimbrogh)
Born: 3/3/1911, Carthage, Illinois, U.S.A.
Died: 11/25/2009, Winnetka, Caiforonia, U.S.A.
Beatrice Gray's westerns – actress:
The Kansan – 1943 (saloon girl)
The Utah Kid – 1944 (Marjorie Carter)
Marked Trails – 1944
Trigger Law – 1944 (Sally Buchanan)
Stranger from Santa Fe – 1945 (Marcia Farley)
Trail of Vengeance – 1945 (Alice Gordon)
Unconquered – 1947 (woman)
The Gene Autry Show (TV) – 1950 (Mrs. Taylor, babysitter)
Callaway Went Thataway – 1951 (woman at bar)
Untamed Frontier – 1952 (Mrs. Brogan)
Wild Heritage – 1958 (cowhand's wife)