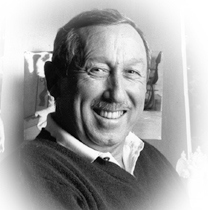 Roy Edward Disney Passes Away at Age of 79
Roy Edward Disney, a longtime Disney executive credited for breathing new life into the storied company's animation departments, has passed away Wednesday morning at the age of 79, after a long battle with cancer.
Disney, the nephew of Walt Disney, successfully led a revolt against the standing guard at Disney, unseating two of Disney's chief executives and ensuring Disney's place in the animation world would not be lost.
Aided by a large financial fortune built up as a successful financier in the 1970s and 1980s, Disney helped force out the sitting managers at Disney, whom he felt had grown too staid, and installed the successful management team of Michael Eisner, Frank Wells and Jeffrey Katzenberg.
At Disney's urging, the company returned to animation, releasing The Little Mermaid, Beauty and the Beast, Aladdin and The Lion King, re-establishing the company as one of the leaders in animation.
DISNEY, Roy Edward
Born: 1/10/1930, Los Angeles, California, U.S.A.
Dired: 12/16/2009, Newport Beach, California, U.S.A.
Roy Edward Disney's western - screenwriter:
Zorro (TV) - 1961