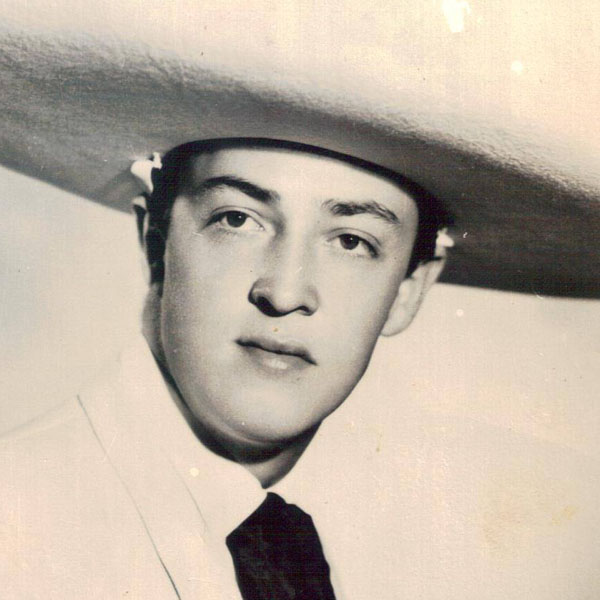 Rodolfo de Anda, an actor, director, screenwriter and producer and a member of the prolific de Anda film family, died of complications from diabetes on 1 February 2010. He had been hospitalised since the previous week, suffering from high blood pressure and other cardiovascular problems.
Ernesto Rodolfo deAnda Serrano was born on 3 July 1943, the son of Raúl de Anda Gutiérrez. The elder de Anda was a popular actor, specialising in roles such as "El Charro Negro," as well as a film director and producer. Rodolfo made his screen debut
at two years of age in Campeón sin corona, and continued to appear on screen in small parts as an adolescent. His brothers--Raúl Jr., Agustín, Gilberto, and Antonio--all followed similar paths into the Mexican film industry. After the tragic death of his older brother Agustín in 1960, Rodolfo became the family's "on-screen" presence (his father had retired from acting and his brothers mostly worked behind the camera), even reprising his father's most famous role as "El Charro Negro." Many of Rodolfo's films in the 1960s and 1970s were Westerns, rural dramas or rancheras, but he did occasionally appear in contemporary dramas and comedies. De Anda continued to act regularly in films and videohomes until the mid-2000s. His final acting appearances were on the TV series "El Pantera," produced by his son Rodolfo Jr. Rodolfo de Anda added scripting, producing and directing to his resumé, founding the production company Rodas, writing under the pseudonym "X. Randa," and directing a number of films, beginning with Indio (1971). De Anda was married twice, to actresses Patricia Conde and Mariagna Prats. He had three children: Patricia, Christiane, and Rodolfo Jr. The latter entered the family business, beginning an acting career at a young age, and later becoming a producer.
de ANDA, Rodolfo
Born: 7/6/1943, Mexico City, Federal District, Mexico
Died: 2/1/2010, Aguascalientes, Mexico
Rodolfo de Anda's westerns – actor, director:
La venganza del Diablo – 1955
El hijo del charro negro - 1961
Amor a belazo limpio - 1961
Muerte en la feria - 1962
El muchacho de Durango - 1962
Alias El Alacrán – 1963
El charro Negro contra la banda de los cuervos – 1963
La máscara de jade – 1963
El solitario – 1964
Duelo en el desierto – 1964
Shadow of the Black Hand – 1964
El texano – 1965
Ghost Town – 1965
El zurdo - 1965
Un hombre peligroso - 1965
Tierra de violencia – 1966
Outside the Law – 1966
Hombres de roca – 1966
Rancho solo – 1967
La leyenda del bandido – 1967
Una horca para el Texano – 1969
Dos valientes – 1969
El hombre de negro – 1969 (Charles Farrell)
Arriba las manos Texano – 1969
Su precio... unos dólares – 1970 (William Bonney)
Siete muertes para el texano – 1971
La mula de Cullen Baker – 1971
Manuel Saldivar, el texano – 1972
Indio – 1972 [director]
Los indomables – 1972
Duelo al atardecer – 1973
Los hombres no lloran – 1973
Traiganlos vivos o muertos – 1974
El busccabullas – 1976
El hombre – 1976
Los hermanos del viento – 1977
Carroña – 1978
Cuchillo – 1978 [director]
One Man's Hero – 1999 (General Ampudia)