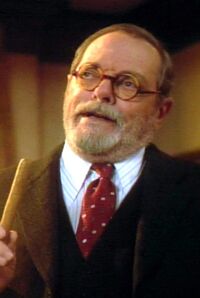 Bernard Kates
Radio, TV and stage actor
Bernard Kates, 87, a prolific actor who appeared on radio, television
and stage, including a noteworthy run of shows at the Santa Maria-based
Pacific Conservatory of the Performing Arts, died Feb. 2 at a hospital
in Lake Havasu City, Ariz., his family announced. He had sepsis and
pneumonia.
Born in 1922 in Boston, Kates studied acting in New York and got his
break on radio.
After serving in the military during World War II, Kates returned to
acting.
He appeared on stage, including Broadway productions of "At War With the
Army" and "The Disenchanted," and in live television shows such as "The
Philco Television Playhouse" and "Playhouse 90."
Kates went on to land small parts on a variety of prime-time TV series,
including "The Asphalt Jungle," "Alfred Hitchcock Presents," "Dr.
Kildare" and, more recently, "Star Trek: The Next Generation" and "3rd
Rock from the Sun."
He also had a bit part in the 1961 film "Judgment at Nuremberg" and
played Ben Scott in the mid-1960s on the daytime drama "The Guiding
Light."
Kates, who enjoyed working in regional theater, acted in several
productions at the Pacific Conservatory's Theaterfest in the mid-1980s
as well as a 1994 staging of "The Disputation" at the Tiffany Theatre in
Hollywood.
KATES, Bernard
Born: 12/26/1922, Boston, Massachusetts, U.S.A.
Died: 2/2/2010, Lake Havasu, California, U.S.A.
Bernard Kates western - actor:
Two Faces West (TV) - 1961 (Chet)