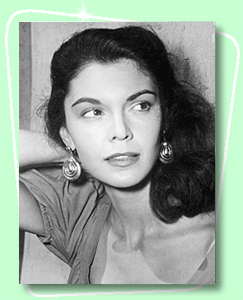 PALM BEACH, Fla., May 27 (UPI) -- Dancer-actress Eugenia Strauss, who acted on the big and small screens, has died in a West Palm Beach, Fla., hospital at the age of 75, her family said.
The cause of her death was undisclosed, the Palm Beach Daily News reported. She died Monday.
Strauss, born in Dearborn, Mich., studied dance with Bronislava Nijinska and acting with Michael Chekov. She was discovered by Warner Brothers and signed as a dancer while touring with the predecessor to American Ballet Theater, moving to Los Angeles when she was 16 years old.
She migrated to acting, signing a contract in 1955 with 20th Century Fox. Best known for starring opposite Guy Williams in the television series, "Zorro," Strauss's other credits include TV shows "Medic," "Alfred Hitchcock Presents" and "Death Valley Days," and movies such as "The Ten Commandments" and "Gunfighters of Abilene."
She retired from acting when she met her husband Bob, heir to the Pep Boys auto store chain. She and her husband of 52 years lived in Florida for 25 years, the newspaper said.
Strauss was a patron of the arts, supporting the Palm Beach Opera, the Florida Philharmonic Orchestra, the Jewish Federation of Palm Beach County, Ballet Florida and Miami City Ballet.
"Her passion and enthusiasm was infectious," Edward Villella, Miami City Ballet's founding artistic director, told the Daily News. "The deep regard she had for art and culture, and especially dance, touched us."
Survivors include her husband, three children and three grandchildren.
PAUL, Eugenia (Eugenia Popoff)
Born: 3/3/1935, Dearborn, Michigan, U.S.A.
Died: 5/24/2010, West Palm Beach, Florida, U.S.A.
Eugenia Paul's westerns – actress:
Death Valley Days (TV) - 1954 (Sabita)
The Gene Autry Show (TV) - 1955 (Marquita)
Brave Eagle (TV) – 1955 (Little Fawn)
Sky King (TV) 1956 (Carmita Fernandez)
Circus Boy (TV) – 1956 (Nitika)
The Lone Ranger (TV) – 1957 (Maria Mendoza)
Apache Warroir – 1957 (Liwana)
Zorro (TV) – 1957 (Señorita Elena Torres)
Boot and Saddles (TV) – 1957 (Yellow Sky)
Broken Arrow (TV) - 1958 (Serafina)
The Adventures of Jim Bowie (TV) - 1958 (Ursula de Veramendi)
26 Men (TV) – 1958
The Rough Riders (TV) – 1959 (Donna Marriot)
Gunfithers of Abilene – 1960 (Raquel)