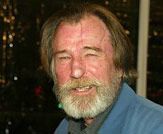 Gravely voiced and rugged looking American character actor James Gammon passed away today July 16, 2010 at his home in Costa Mesa, California after a long battle with cancer. He was 70. Born on April 20, 1940 in Newman, Illinois. He broke into the entertainment industry as a cameraman but his tough as nails look, attitude and that patented gruff voice got him work in front of the camera. He made his first appearance on the TV series "Wild Wild West" starring Robert Conrad in 1967. He'd go on to appear in over 130 films and TV appearances, among them 34 westerns. He was a natural for the genre and was one of it's best character actors. He made three Euro-westerns "One Mans Hero" (1999), "Cold Mountain" (2003), "Don't Come Knocking" (2004). His last western was "Appaloosa" (2008) and last film appearance was in "The New Daughter" 2009.
GAMMON, James
Born: 4/20/1920, Newman, Illinois, U.S.A.
Died: 7/16/2010, Costa Mesa, California, U.S.A.
James Gammon's - westerns
The Wild Wild West (TV) – 1966 (Egan)
The Monroes (TV) – 1966 (Stennis)
The Road West (TV) – 1966, 1967 (Pete Fowler), (Deputy Virgil Bramley)
Gunsmoke (TV) – 1966, 1973 (Arnie Jeffords), (Dudley)
Bonanza (TV) – 1967 (Harry Jeffers)
The Viriginian (TV) – 1967 (Cal Mason)
Journey to Shiloh – 1968 (Tellis Yeager)
Lancer (TV) – 1968, 1969 (Wes), (Clint Meek)
A Man Called Horse – 1970 (Ed)
Macho Callahan – 1970 (cowboy)
The High Chaparral (TV) – 1970 (Lafe)
The Intruders (TV) – 1970 (Chaunce Dykstra)
Cry for Me, Billy – 1972 (Amos)
Dusty's Trail (TV) – 1973 (Roy)
Kung Fu (TV) – 1974 (Jake)
Zandy's Bride – 1974 (cowboy)
The Sacketts (TV) – 1979 (Wes Bigelow)
Urban Cowboy – 1980 (Steve Strange)
The Ballad of Gregorio Cortez (TV) – 1982 (Sheriff Frank Fly)
Noon Wine (TV) – 1985 (sheriff)
Silverado – 1985 (Dawson)
Conagher (TV) – 1991 (Smoke Parnell)
The Young Riders (TV) – 1991 (Elias Mills)
Wyatt Earp – 1994 (Mr. Sutherland)
Streets of Loredo (TV) 1995 (Charles Goodnight)
Wild Bill – 1995 (California Joe)
The Hi-Lo Country 1998 (hoover Young)
You Know My Name (TV) – 1999 (Real Arkansas Tom)
One Man's Hero – 1999 (General Zachary Taylor)
Cold Mountain – 2003 (Esco Swanger)
Monte Walsh (TV) – 2003 (Fighting Joe Hooker / Albert Miller)
Don't Come Knocking – 2004 (old ranch hand)
The Far Side of Jericho – 2006 (The Preacher)
Appaloosa – 2008 (Earl May)