Danny Morton, 95, died July 19 in California. Best known as "The Dakota Kid" in a 1951 Rough Ridin' Kids Republic western; also in "Royal Mounted Rides Again", "Mysterious Mr. M" serials and "Eyes of Texas" with Roy Rogers.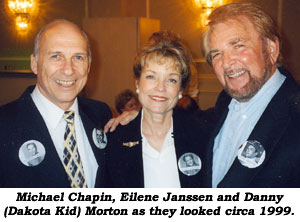 MORTON, Danny
Born: 2/5/1915, Brooklyn, New York, U.S.A.
Died: 7/19/2010, Los Angeles, California, U.S.A.
Danny Morton'e westerns - actor:
The Royal Mounted Rides Again - 1945 (Eddie 'Dancer' Clare)
The Scarlet Horseman - 1946 (Ballou)
Gunman's Code - 1946 (Lee Fain)
Eyes of Texas - 1948 (Frank Dennis)
The Dakota Kid - 1951 (Dakota Kid)