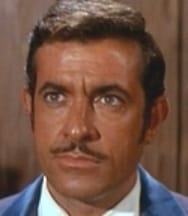 Farewell German Cobos.
Germán Sánchez Hernández-Cobos, born in Seville, Spain on July 7, 1927, died last week at 88 years of age. Throughout his career he participated in over 115 films and many other occasions also on television.
His first film appearance was in "The lioness of Castile" in 1951, directed by Rafael Gil. During his career he worked with directors such as Pedro Almodóvar, Jose Luis Garci and Carlos Saura and shared the stage with greats like Concha Velasco, Impero Argentina, or Sara Montiel. Notable films that participated are crows (1976), Law of Desire (1987) or Esposados (1996).
Besides being an incombustible actor, was also committed since its inception with the working conditions of the profession and participated in the important actors strike in 1975-along with other professionals such as Juan Diego and José sexton who managed to stand up to the vertical union controlled the Franco regime.
COBOS, Germán (Germán Sánchez Hernández Cobos)
Born: 7/7/1927, Seville, Andalucía, Spain
Died
: 1/12/2015, Seville
, Andalusia,
Spain
German Cobos' westerns - actor:
Apache Fury - 1963 (John Martin) [as George Gordon]
Massacre at Fort Grant – 1964 (Paul Driscoll) [as Jerry Cobb, George Gordon]
The Secret of Captain O'Hara – 1964 (Captain Richard O'Hara)
Black Tigress - 1967 (Larry Stern/El Diablo)
Wanted – 1967 (Martin Heywood)
Blood Calls to Blood - 1968 (Father Louis Willoughby)
Quinto: Fighting Proud – 1969 (Sucre)
Reverend Colt – 1970 (Fred Smith)